Laing O'Rourke has a proven and unparalleled track record of successful delivery in the healthcare sector. We have built 16 hospitals over the past decade, working with a range of healthcare authorities and their advisors. The power of our experience helps us to deliver world class facilities and certainty for clients.
More about our healthcare sector specialist

Rory Pollock
Sector Specialist - UK
Rory Pollock is Laing O'Rourke's healthcare specialist. He has a strong track record of successful project delivery and has led large teams on technically demanding schemes. He has an intimate knowledge of the benefits that modern methods of construction deliver.
Rory has helped refine our technical blueprint and playbook for hospital delivery, ensuring we harness data and digital engineering to create smart hospitals of the future.
About the healthcare sector
We design and deliver world class healthcare facilities by engaging early with our clients, clinical staff and patient groups.
Using modern methods of construction we are transforming how new hospitals are built - and delivering a higher quality and more flexible product in less time.
Over the past decade we have honed our DfMA approach within the healthcare sector, improving productivity and quality and shortening delivery times. In November 2020 we handed over The Grange University Hospital in Wales to the Aneurin Bevan University Health Board four months early and with zero defects. This was made possible through the power of our experience in modern methods of construction.
We now believe we can deliver a 600 bed critical care hospital in less than two years.
Our experience in healthcare
A timeline of our healthcare projects.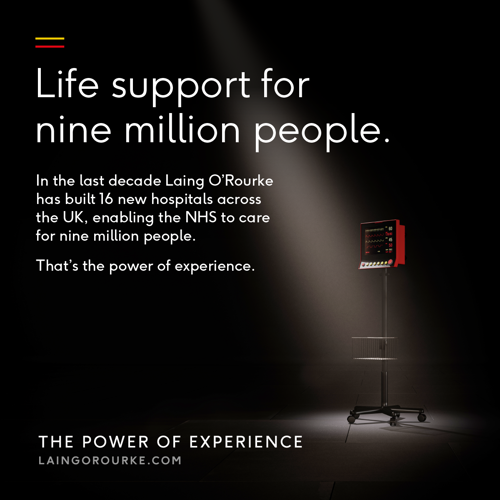 2018
Ysbyty Glan Clwyd Hospital
2017
Dumfries and Galloway
2016
DFI Llandough Mental Health Unit
2015
The Lanarkshire Beatson
2015
St James University Hospital
2014
West Cumberland Hospital
2014
North Staffs Hospital
2013
Bristol Royal Infirmary
2012
Glasgow Royal Infirmary
2011
Forth Valley Acute Hospital
2011
Newcastle Freeman Hospital

United Kingdom
Alder Hey Children's Hospital
The completion of Europe's first ever hospital in a park has helped to reaffirm...

United Kingdom
The Clatterbridge Cancer Centre
A new, flagship hospital for cancer treatment provides care, continuity and comf...

United Kingdom
Royal Liverpool University Hospital
Healthcare for a City Region

United Kingdom
The Grange University Hospital
Laing O'Rourke completed works on several sections of the £350 million Grange Un...

United Kingdom
Dumfries and Galloway
Laing O'Rourke's healthcare sector expertise helped deliver Dumfries & Galloway...