We're leaders in low carbon innovation as we work to become a net zero company before 2050. By working collaboratively across the sector to identify decarbonisation solutions, we're solving complex climate challenges and building a better environment.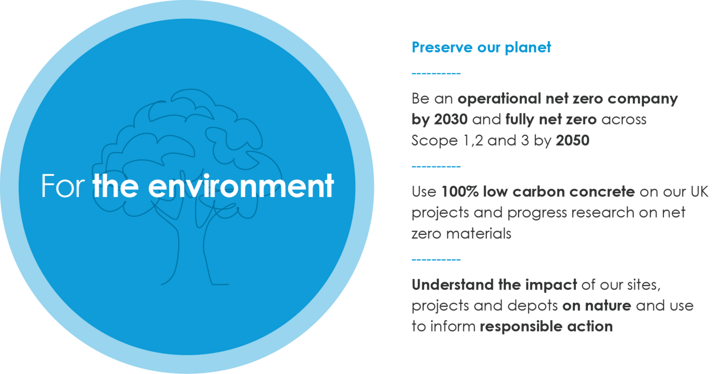 Decarbonising the built environment
We're working to become an operational net zero company by 2030 and fully net zero across Scope 1, 2 and 3 before 2050. To achieve this goal, we're investing in low carbon solutions and technologies to minimise our own environmental footprint and our clients'. We prioritise emissions reductions over offsetting, incorporating climate resilience from the design stage throughout the entire product lifecycle.
of offices and sites powered by renewable energy
electric plant fleet
our UK plant equipment converted from diesel to HVO
of new UK projects to use low carbon concrete
Leaders in low carbon concrete
As founding members of the ConcreteZero initiative, we are committed to net zero concrete by 2050 and our comprehensive in-house research and development programme is designed to work towards that goal.
In April 2023, we took our commitment one step further by mandating the switch to low carbon concrete on all new UK projects. Alongside our research partners, including Innovate UK, the University of Cambridge, and Sheffield University's Advanced Manufacturing Research Centre (AMRC), we have proven that a range of low carbon concrete options can be successfully deployed on projects as a like-for-like substitute for traditional concrete.
Working towards nature positive
Beyond our decarbonisation commitments, we also consider the nature-related impacts of our operations. We have completed baseline biodiversity surveys of our fixed facilities and are in the process of conducting nature positive planning. This means we are using the analysis to make nature-conscious decisions about our operations, as well as lending our expertise to client projects.