The Whiteley reaches new heights
30.11.21
A major construction milestone has been marked with the topping out of The Whiteley, the grand reimagining of the former Whiteleys department store in London's Bayswater.
Laing O'Rourke, joint venture partners MARK and C C Land and development manager Finchatton welcomed guests to the traditional building ceremony today, which celebrates reaching the highest point of a project's main structure.
Laing O'Rourke's specialist engineering business, Expanded, started work on site in January 2020 under a package to deliver the basement and frame which sits behind the retained four storey, Grade II, listed façade on the Queensway elevation.
Main construction work to redevelop and restore the building began in November 2020 and rapid progress has been made, enabled by modern methods of construction, with completion expected in late 2023.
Paul McNerney, Director of UK Building for Laing O'Rourke, said:
Quote icon
Laing O'Rourke is proud to be delivering The Whiteley, a landmark building that once redeveloped will create a vibrant new destination for the local community and for visitors to London. An offsite-manufacturing approach has been instrumental in achieving today's milestone.
Many of the components such as core walls, columns and bespoke façade elements are being manufactured at our Centre of Excellence for Modern Construction in Nottinghamshire before being transported for on-site assembly. This approach provides greater certainty for our client and helps to minimise disruption for the local community."
Designed by Foster + Partners, the £1bn redevelopment includes 139 world-class, modern residences, 20 new shops, cafes and restaurants, a central public courtyard, a cinema, a gym and London's flagship Six Senses hotel and spa, with 110 rooms and a social wellness club.
The major restoration and refurbishment of Whiteleys into a new residential, retail, dining and hotel destination marks the beginning of a new era for Bayswater. As a long-standing presence, The Whiteley will become the cornerstone of the area's redevelopment, forming the centrepiece for the major regeneration of Queensway and the wider Bayswater area. Over £3bn of collective landowner investment is set to transform the street over the coming years, including a new retail strategy, greening of the streets, significant public realm improvements and a new gate to Hyde Park.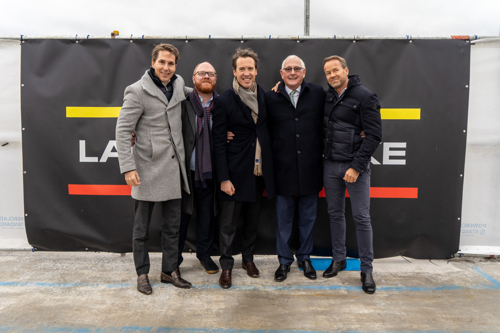 left to right: Alex Michelin -Finchatton, Justin Black – C C Land, Andrew Dunn – Finchatton, Ray O'Rourke – Laing O'Rourke, Marcus Meijer – MARK
Lily Lin, UK & Ireland Managing Director at MARK, said:
"The Whiteley will transform the northern end of Queensway by creating a world-class mixed-use destination that is within walking distance of Hyde Park, Notting Hill and Paddington, with its emerging business cluster and excellent transport links.

"Bayswater remains relatively under-developed compared to neighbouring districts, with significant potential for value creation and place making. The Whiteley, will help redefine the area and we look forward to seeing the project's completion."
Justin Black, Head of UK Development at C C Land, said:
"It is with immense pride that we reach this major milestone at The Whiteley, one of London's most complex and highest profile projects."
Richard Shaw, Development Director at Finchatton, said:
"We are fortunate to be working with a highly motivated and talented delivery team that have risen to meet the challenges of the past 18 months head-on. As we enter the next exciting phase of the project we look forward to developing our strong relationship with Laing O'Rourke and working together to ensure the timely completion of their works during late 2023.
Working alongside our development partners, to the design of Foster + Partners, we are delighted, as it tops out, to be marking a moment where this epic scheme takes a significant step to realising and rewarding the vision of the joint venture partners."