As our cities continue to grow, rail infrastructure will play an increasingly important role in providing lower carbon transportation for people and goods, stimulating economic regeneration and connecting people and communities.  
Through direct delivery, innovative partnering and joint venture arrangements, we deliver metro and light rail, underground, mass transit commuter, freight and heavy haul rail networks. Our multi-disciplinary experience includes programme management, civil engineering and tunnelling, and rail systems to include track construction, electrification services, signalling, and maintenance services gained through the delivery of unique rail systems in across the globe.  
In Australia, our track record in the delivery of mining infrastructure, particularly in enabling the transportation of minerals from pit to port, has made us a highly regarded partner to the world's largest natural resource companies. Today we deliver rail infrastructure in every operating jurisdiction in our Australia Hub. 
In the UK we have delivered rail projects from rural infrastructure upgrades to 'live' urban interchange stations – working both above and deep underground – in a technically demanding, highly regulated sector. Our portfolio boasts projects such as the refurbishment of London's iconic St Pancras International, Manchester Piccadilly and Sheffield's main station. We have also played a key role in national infrastructure for Manchester Metrolink, HS2 and East West Rail, while in the capital we have delivered a number of key stations for Crossrail and London Underground.
Our experienced teams of railway engineering professionals, and specialist plant and equipment, enable us to deliver certainty on the most complex projects.
Meet our rail sector specialists

Emma Gilchrist
Sector Specialist - UK
Emma Gilchrist is Laing O​'Rourke's infrastructure sector specialist and has worked as an engineer, design manager and bid manager.
She has developed Laing O'Rourke's UK infrastructure strategy with a focus on innovating to deliver high quality, greener infrastructure.

David Robotham
General Manager - Rail, Clients & Markets
David Robotham brings more than 25 years' experience in the rail sector to the role. He has worked in rail for his entire career,  joining Laing O'Rourke in 2009 and has worked across a number of major projects and portfolios, including Operational General Manager roles and also in leadership roles for Victoria's North Eastern Program Alliance (NEPA, More Trains More Services and Novo Rail. In this role, David is responsible for setting Laing O'Rourke's rail sector strategy, establishing delivery partnerships, driving collaboration through client engagement and managing the pursuit process for the major pipeline of rail projects across the country.

Ryan Alach
General Manager, Pre-Contracts - Australia
Ryan Alach brings more than 20 years of experience managing complex projects in the infrastructure sector. Joining Laing O'Rourke in 2016, he has built a reputation as a trusted advisor for government agencies delivering key city-shaping projects in Western Australia including Elizabeth Quay and City East Alliance. Ryan has a passion for building the capacity of the West Australian supply chain, supporting local jobs and economic development and using major projects as a platform to drive greater social inclusion and develop young professionals into rewarding careers.
Our experience in rail
A timeline of some of our rail projects.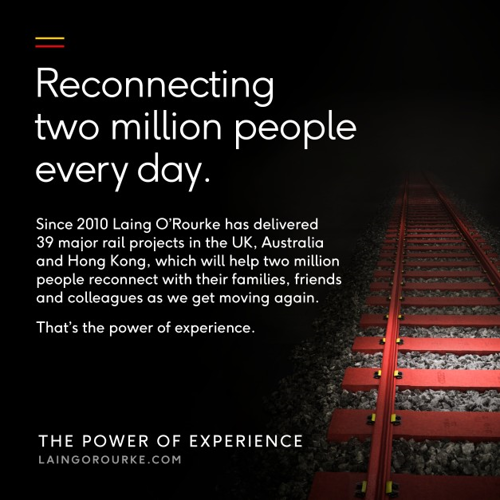 2025
More Trains More Services (MTMS) - Australia.
2024
Sydney Metro Sydenham Station Junction (SSJ) - Australia.
2024
Metronet Morley to Ellenbrook - Australia.
2023
Paramatta Light Rail - Australia.
2023
TAP 3 Tranche 2 - Australia.
2022
SEPA Cranbourne - Australia.
2022
SEPA Manchester & Maroondah - Australia.
2022
SEPA Hallam Road - Australia.
2022
Sydney Metro Central Station Main Works - Australia.
2022
HS2 enabling works (area North) - UK.
2021
Flinders Link Rails Extension - Australia.
2012-2021
Crossrail - Tottenham Court Road, Liverpool Street, Custom House and Canary Wharf - UK.
2021
SEPA Glenferrie Road and Tooronga - Australia.
2020
North Shore Corridor Works - Australia.
2020
MTM Track Renewals - Australia.
2020
Main Northland North Shore Corridor Works Project - Australia.
2009-2020
Manchester Metrolink - Trafford Park Line, Second City Crossing, Manchester Airport Line, Oldham-Rochdale Line, East Manchester Line, South Manchester Line, Media City - UK.
Manchester Metrolink

Arrow Icon
2019
Sydney Light Rail Early Works - Australia.
2019
NSW Easy Access - Australia.
2018
Novorail Alliance - Australia.
2018
Torrens Rail Junction Project - Australia.
2018
Perth Stadium Station - Australia.
2018
NEPA Lower Plenty Road, Rosanna - Australia.
2018
NEPA Grange Road, Alphington - Australia.
2017
Wynyard Station Upgrade NSW - Australia.
2017
Bond Street underground station.
2017
Wickenham Transport Interchange Project - Australia.
2016
New Generation Rollingstock Train Maintenance Facility - Australia
2016
Stafford area improvement programme - UK.
2013
Adelaide Electrification Project - Australia.
2012
Farringdon station redevelopment - UK.
2012
Sunbury Electrification - Australia.
2012
Adelaide Metropolitan Railway SA
2008
Hornsby Platform 5 and Stabling project - Australia.
2005
Chatswood Transport Interchange - Australia